High Voltage Motor Manufacturers
Electric motors and generators are at the heart of the manufacturing industry. Combined they consume more than half the energy generated worldwide.
Challenges are numerous for electric motors and generators manufacturers that thrive to build ever-more reliable units with superior energy efficiency ratings at competitive prices. The choice of a competent and reliable subcontractor to manufacture rotor poles and connection bars is therefore a strategic issue.
Delstar Energie offers high quality rotor poles and connection bars to high voltage motors and generators manufacturers so they can appose their brand name on each unit with confidence, whether it is a serial production or a one-time special product.
We also offer refurbishment, re-insulation and renovation services of rotor poles, coils and connection bars for units that reached the end of their useful life.
---
Services to the high voltage motor industry
---
Traceable and certified removal, treatment and neutralization of asbestos insulation
Safe and quick chemical asbestos abatement
Chemical bath capable of 8–24 coils a day
Bonding press capable of 8–24 poles a day
Pole coil refurbishment
Pole coil manufacturing, dovetail or edge wound
Automated coil manufacturing machines
Manufacturing of stator connection bars
Electrical tests

Monitored pressure and temperature, recorded during the hardening process
Systematic centrifugal and shockwave tests
Dielectrical tests
Resistance and impedance tests
Induced voltage test

Electromechanical component assembling specialist
Support toward the development of the manufacturing process to produce stator and rotor electrical components
---
---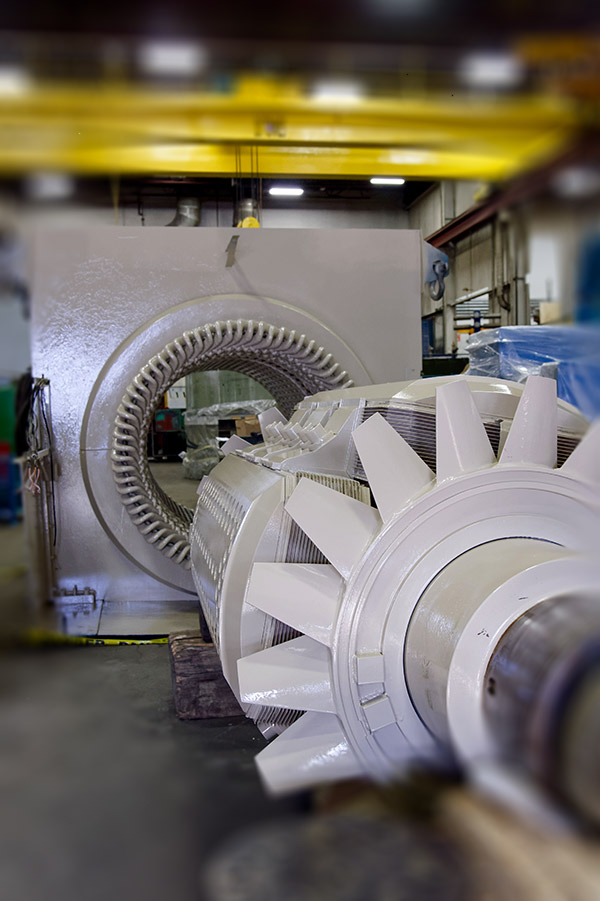 ---
High voltage electric motors and generators

Rotor poles
Interpoles
Exciter poles

Propulsion electric motors (PODS)
Salient poles motors
---